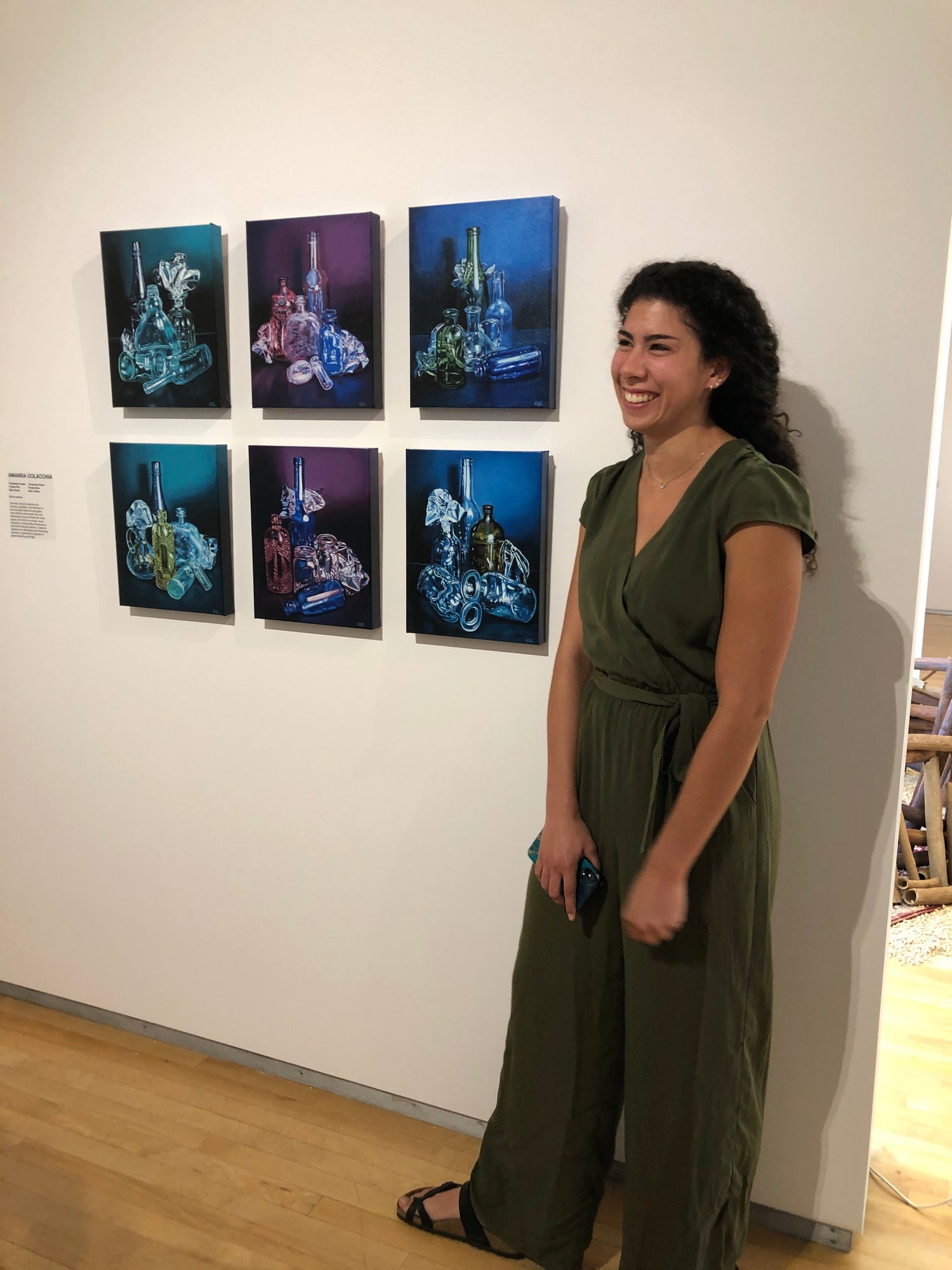 Finding My Passion
Hi my name is Amanda and I am an oil painter as well as graphic designer. I received a B.A. in Studio Art from Westmont College, Santa Barbara. I am fascinated with the interaction between light and glass objects. As seen in my Senior Project exhibition, I am drawn to distortion and abstraction of glass objects. Here is a little about my journey becoming an oil painter:
I had never really oil painted before attending Westmont. I remember being in Drawing 2 during our exploration series where we did figure drawings using other mediums besides charcoal. And my professor was watching me using acrylic paint for my figure drawing and he said "Amanda I think you are a painter, have you ever oil painted before?" I said no but told him I wanted to take Painting 1. This was the Fall of my Sophomore Year. So that summer I painted a ton to keep my art skills up and to explore this new love for painting. It wasn't until Fall my Junior year that I was finally able to take Painting 1.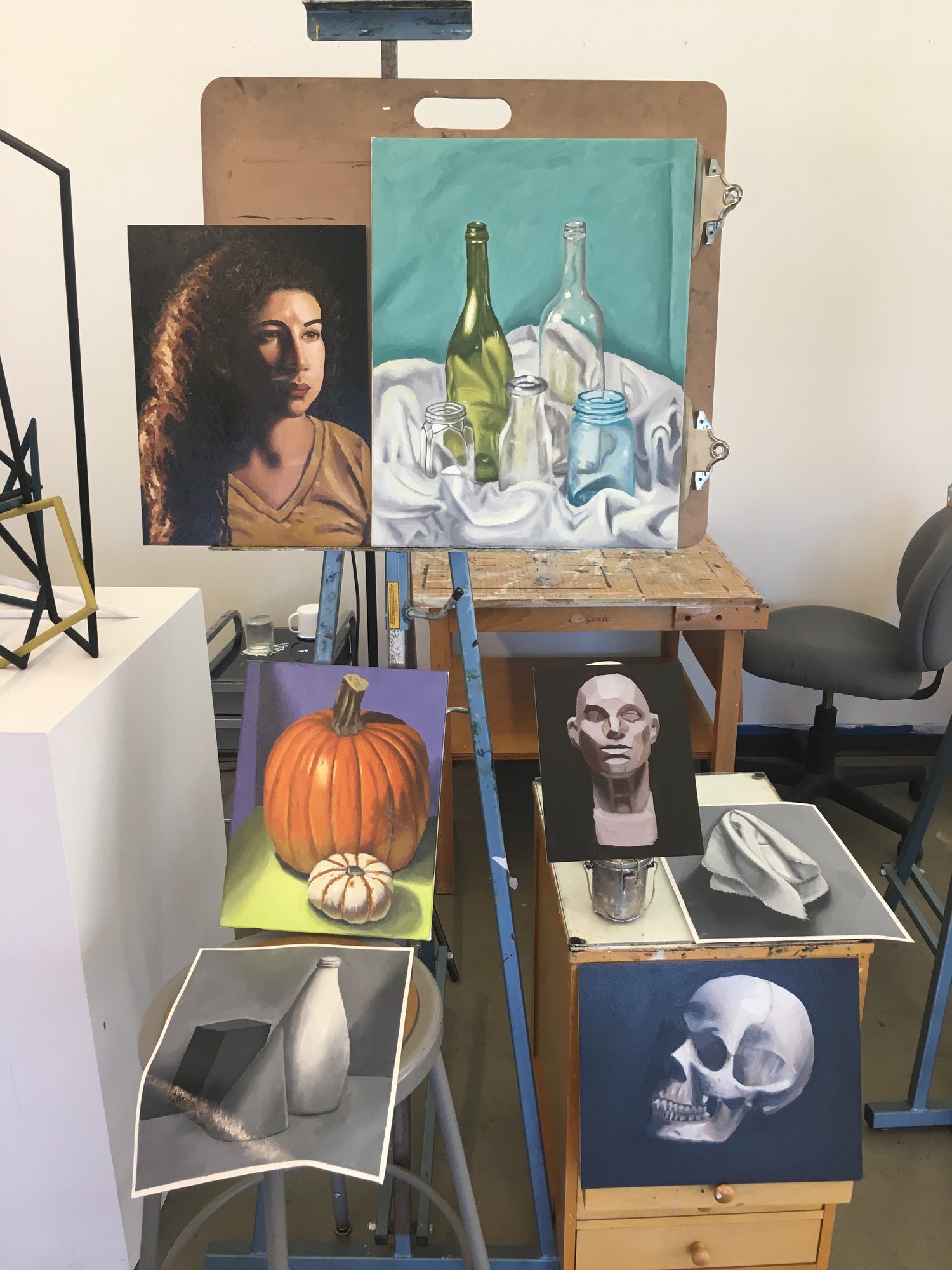 Painting 1
First day of Painting 1 I was immediately in love with the medium! It was definitely intimidating at first but with practice and patience I soon became comfortable with it. Coming towards the end of that semester my Painting 1 Professor asked us which of us would be interested in having a Painting 2 class offered. I think he realized there was a lot of talented painters in our class. A few of us raised our hands me being one of them. He said since there was enough interest that he would get the registrar to approve a Painting 2 class.
Here are my paintings from Painting 1. We started out with two black and white paintings. Then moved on to a little bit of color with the skull painting. We also did some landscape paintings (not pictured). We did a self portrait using a limited palette. A pumpkin arrangment with bright colors. And lastly our final which was whatever we wanted it to be painted on 16x20 canvas.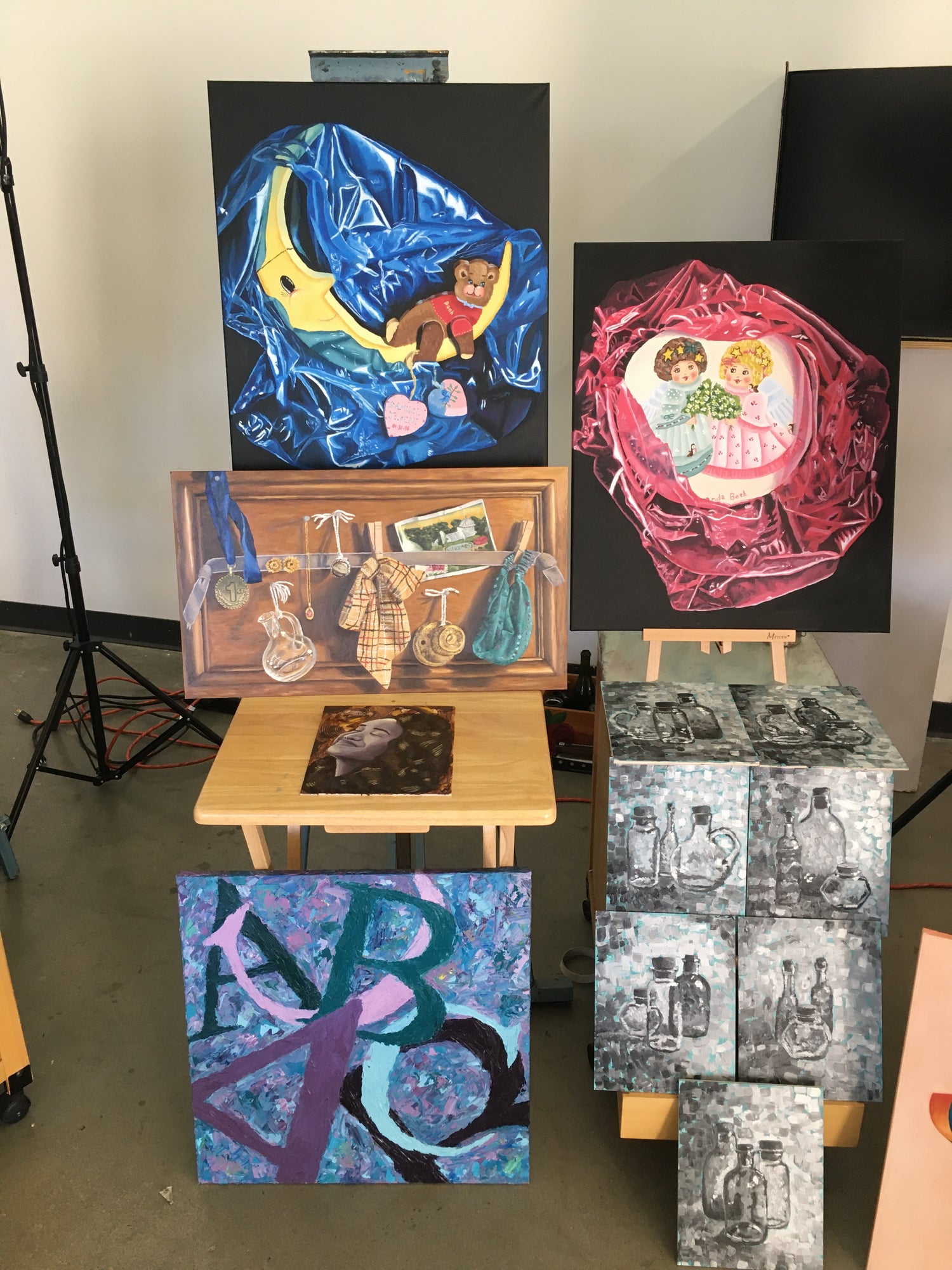 Painting 2
The very next semester Spring of my Junior year I got to take Painting 2 along with 3 other students. It was this semester that I realized I was going to oil paint for my senior project. I just loved the medium of oil painting. I loved how bright I could get my colors to be and how long I could work with the paint. Oil painting was truly my calling and I felt so free while doing it.
Here are some of my paintings from Painting 2. We started off with some black and white paintings. Then moved onto probably one of the hardest things I have ever painted!!! This is the long narrow brown painting which is a "tromper l'oeil" painting which is French for "trick the eye". The idea was to make something that was mundane and paint it so detailed that people would mistake it for reality. I think we spent like 2 months or so on these pieces. We did some typography, portraits and finally a two series final of our choice (black background pieces).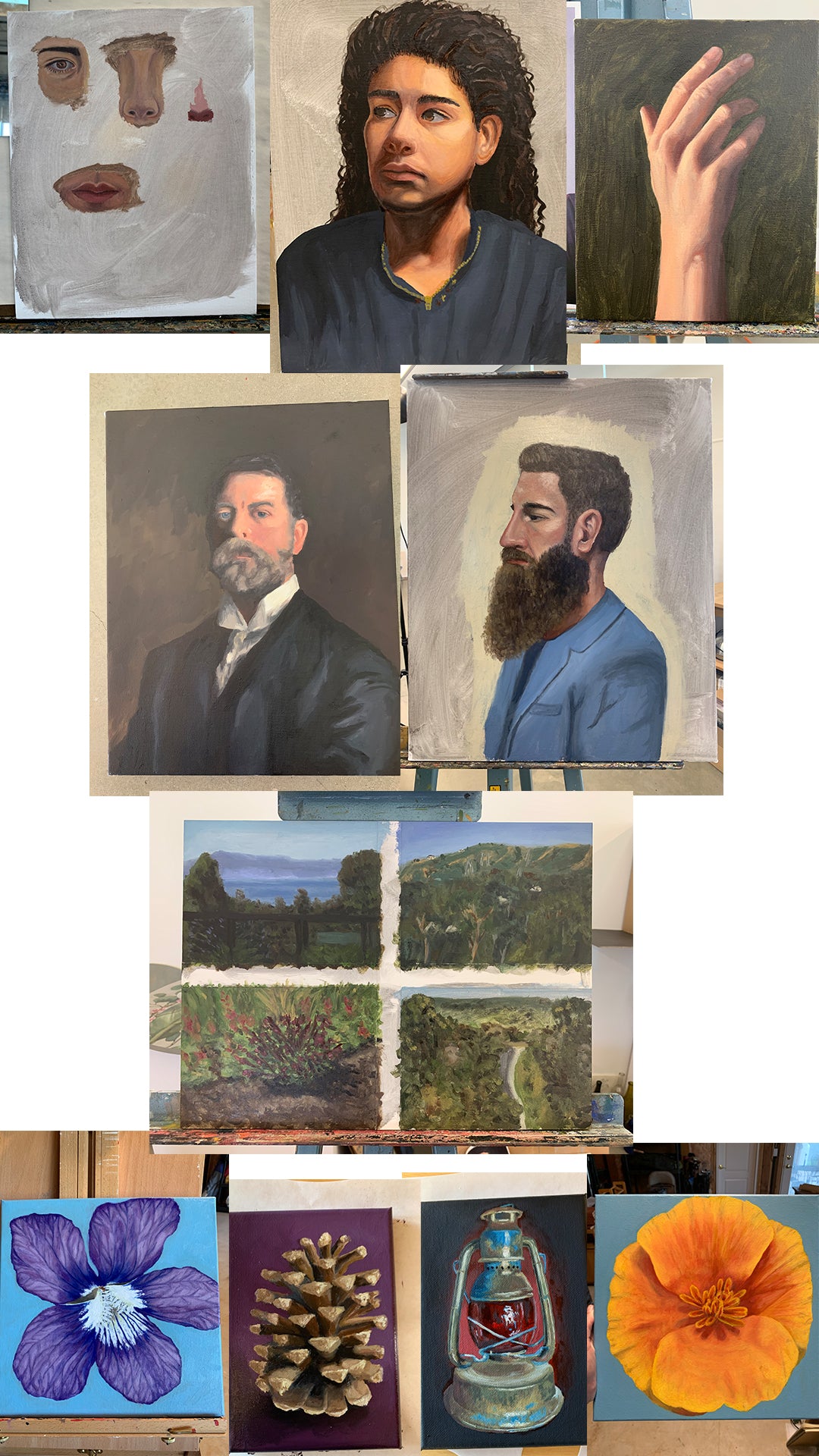 Painting 3
For Painting 3 we mostly focused on portraits and landscapes. We had a local working artist as our teacher. I have always been fascinated with capturing the face because and their features are really hard. So its a huge accomplishment when you can get them right. We had a few sessions of painting from life (the portrait of the man in a blue suit). We did a master studio of John Singer-Sargent's self portrait. We Did our own self portraits. A hand painting (I used my boyfriend as my model) which I felt really accomplished in being able to paint and draw. Then we did some landscape paintings just right outside the painting studio which I didn't know at the time but it was my last time painting at Westmont because...
The pandemic happened the next week! So I finished the rest of my Senior year at home in my parents storage basement. My teacher was really loose with us during this time and was just having us paint whatever we found interesting. It was hard to stay inspired during this time because I missed my friends and the time I would have had left at school. This time finishing school at home felt like it took an eternity. It actually was only a month and a half.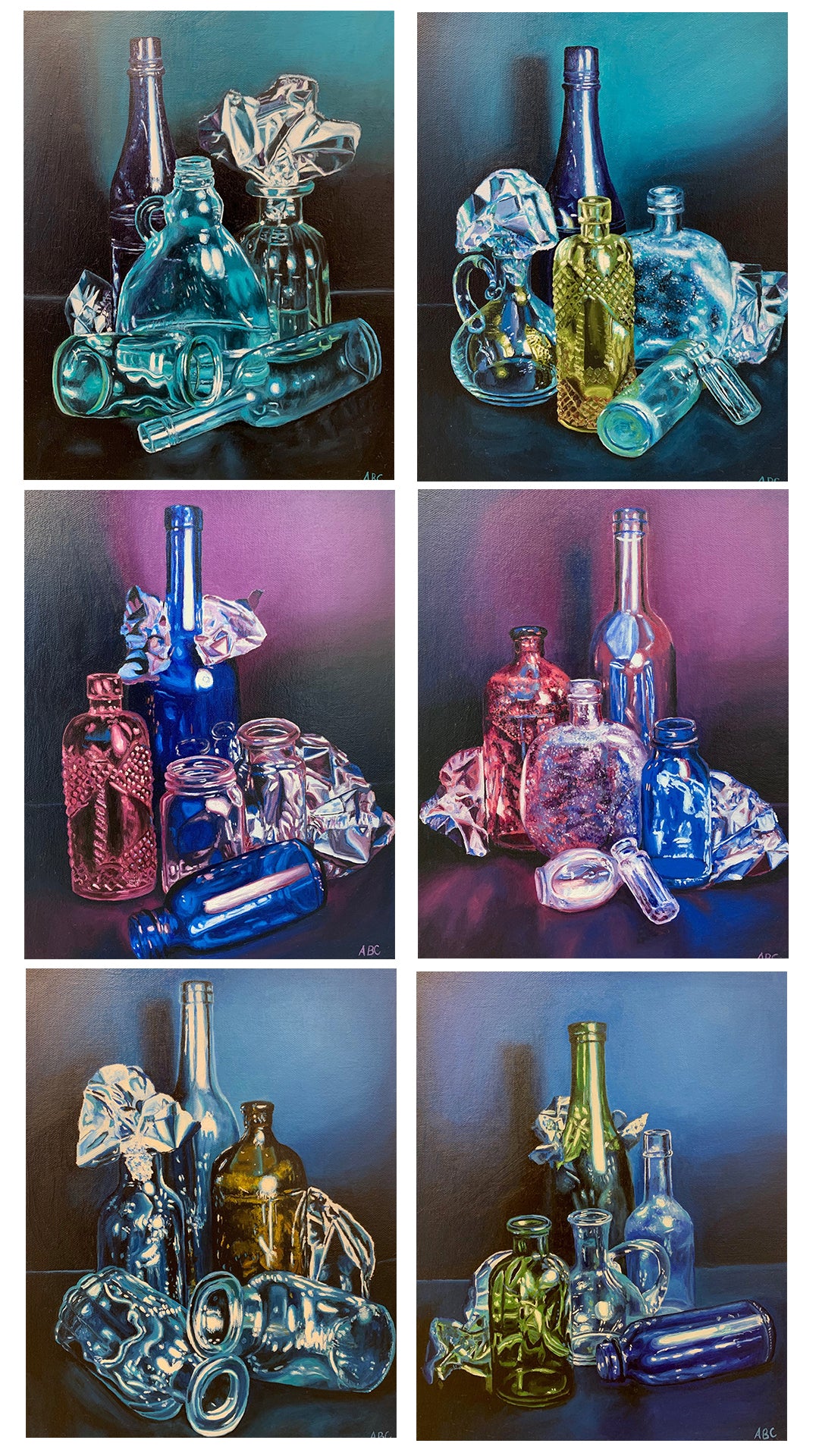 Senior Project
Rewind a little bit to the beginning of my Senior year. I am starting to brainstorm and find direction for my senior project. Your senior project was a mandatory project all Art Majors at Westmont had to complete in order to graduate. It was a body of work whatever you wanted to create surrounding a theme or idea you had. The first semester we spent narrowing our ideas and make art to figure out what our project was going to be about. I remembered my final I made for Painting 1 which was glass bottles arranged together. I took some reference pictures of two glass objects lit with a colored light. I showed it to my Professor and she encouraged me to take it a step further with more objects. So then I made arrangements with 5-6 antique glass bottles with tinfoil accents and realized this was it! I finished the top left piece at the end of the Fall semester and received amazing feedback from my professors. During my Spring semester I finished the rest of the series. I painted 3 hours in the morning 3 days a week as well as 2-3 hours most evenings. I finished right before Spring break which was a week before they were due. The opening would take place the week after Spring Break, But as you can guess that didn't happen since this was March 2020. The hardest part was that me and the other senior Art Majors didn't get to have a normal opening for the projects we had worked on for the past 6 months. But I have healed from this and am happy to say that all my pieces sold!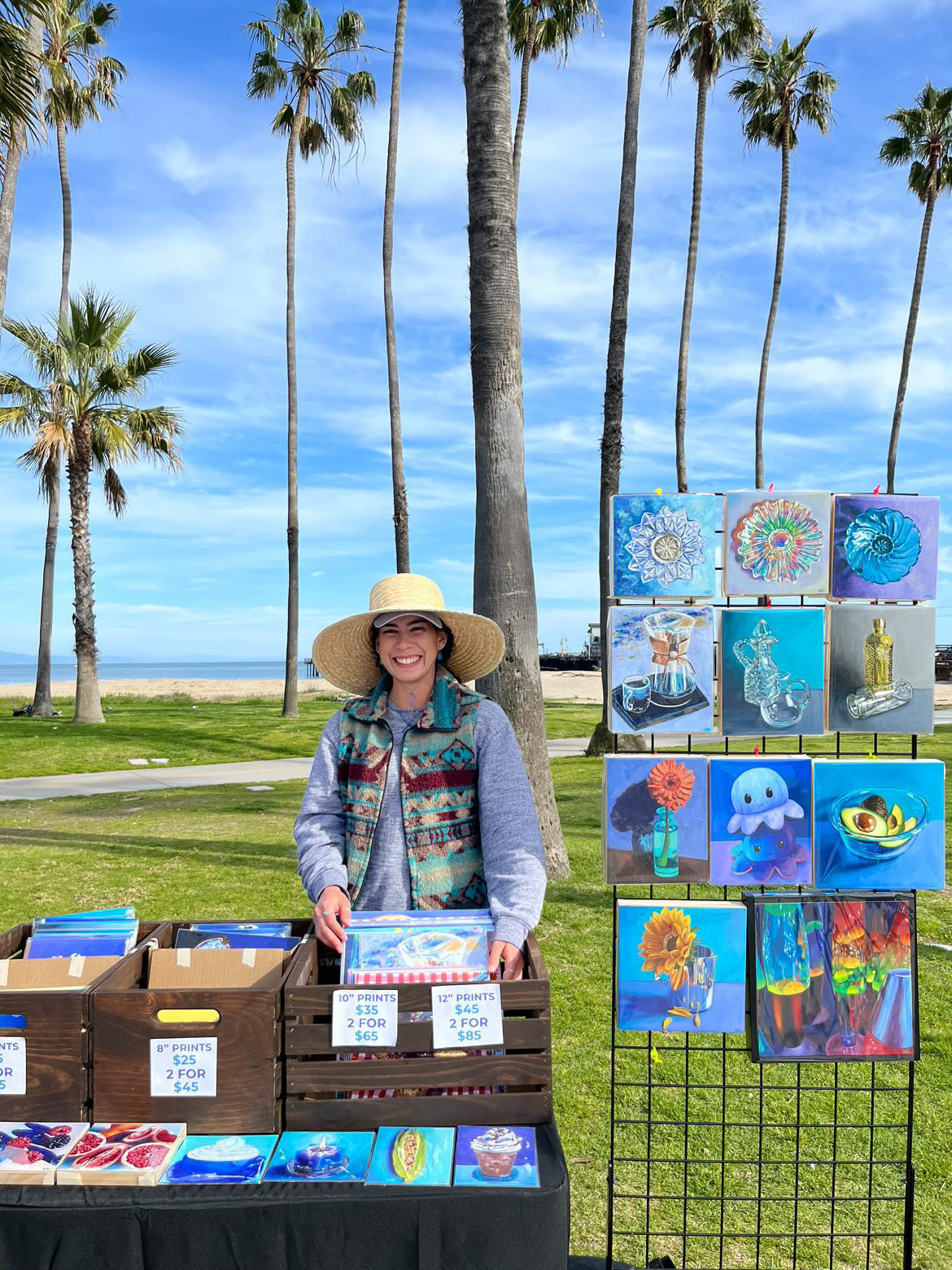 Full-Time Artist
In September 2020 I moved back to Santa Barbara after spending the summer working for my Dad's business. A month later I got a job for a local small business doing some graphic design and some fulfillment. I worked there for almost 2 years and found it incredibly difficult to make art regularly because I was so tired after work. So in September 2022 I resigned from my position having saved up a lot of money and with my famlies support I knew I could make this jump to being a full-time artist. Now I am a member of the Santa Barbara Arts and Crafts Walk which is a weekly art show that happens every Sunday year round and select Saturdays. I sell original oil paintings, prints and stickers. I have gotten some commissions from doing the show and have sold lots of prints as well as paintings. I am working on growing my social media presence and email list. I just started dedicating more time to YouTube and am hoping to see more growth there soon. I absolutely love my life now. I am still new to being a full-time artist but I have already been having a lot of success at this. I am very excited for what the next few years will hold for me and my art!
Gallery Experience
Mixed Up Tri- Country Juried Exhibition, Westmont College Ridley-Tree Museum of Art
Santa Barbara, CA | May 18, 2023 - June 18, 2023
Santa Barbara, CA | November 28, 2022 - January 23, 2023
Santa Barbara, CA | November 29, 2021 - January 24, 2022
Senior Project Exhibition, Westmont College Ridley-Tree Museum of Art
Santa Barbara, CA: August 2 - 15, 2020
Single Glass Objects, Westmont College Art Lab 1.5
Santa Barbara, CA: October 7 - 18, 2019
COLLIDE, Westmont College Art Lab 1
Santa Barbara, CA: March 4 - 20, 2019